Read about Rep. Peter Welch's visit to Spectrum's Youth & Family Services Drop-In Center in St. Albans. Article on October 20, 2022, by Josh Ellerbrock from the Saint Albans Messenger. Rep. Welch, met with executive director Mark Redmond to see the center, meet youth and see firsthand what federal investments do for local youth.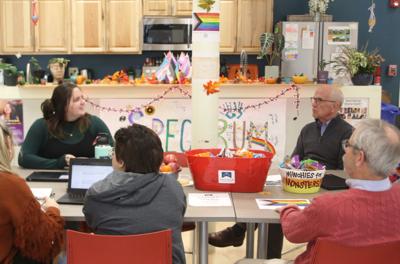 ST. ALBANS — At Spectrum Youth & Family Services on Wednesday, the biggest news for the youth was the day's menu – goulash.
Rep. Peter Welch's arrival came in at a close second.
For Spectrum executive director Mark Redmond, however, his visit was a good chance to show what federal investment can do for local youth.
"It's good for him to hear about," Redmond said. "We're going to need money to keep this going."
Located at 223 Lake Street, the Spectrum Drop-in Center provides a safe place for teenagers, and the organization's mission is to help young people develop positive life skills and habits as they enter adulthood. Spectrum also has three Burlington-based locations.
Welch spent part of his visit to Franklin and Grand Isle counties talking to some of the local youth who hang out at the St. Albans location and hearing about Spectrum's programming. Originally opened in May of 2021, the drop-in center's first two years of operation are partially funded with $300,000 in federal dollars through the community development block grant program.
Another $295,750 is provided through private funding.
"Like everyone, kids are going through some tough times, and they need a safe place," Welch said. "It's all about following the needs to help children."
Since opening the center, Redmond said Spectrum has seen a steady increase in kids who come through its front doors as the pandemic winds down. By the time of Welch's visit, the center had tallied a total of 300 who had used Spectrum's services.
Identifying the youth in need, however, has just been one part of the process. As more come through the doors each day, Spectrum social workers are also starting to identify the best ways to tackle issues that local youth bring to the table, such as the need for stable housing, healthy meals and social support.
When speaking with Welch, Redmond said they've recognized that many youth are now seeking mental health services or counseling, which requires parental approval to access insurance funding.
If the federal government provided additional funding, Spectrum could better provide mental health support.
Redmond also talked about ongoing efforts to provide housing and additional technical support for children as they become adults, and the federal government could help foot some of the bill depending on need.
The approach has already had some success. Working with the Champlain Housing Trust, Spectrum now leases out three apartments to those entering adulthood without typical parent support.
"Some of them were in tears when we told them," Redmond said. "They were saying it was the best place they ever lived."
Spectrum houses the young adults in the newly built Vista Apartments, located behind the Cadillac Hotel in St. Albans.
The building features 15 apartments to help households secure more permanent housing, and 10 of its apartments are rented out through the Champlain Valley Office of Economic Opportunity. The project began renting out the households as affordable housing beginning this past June.
"We took some of the older kids to live in the apartments. They're entering their careers and they needed a place," Redmond said.
The 'Welch wagon' tour
Welch's visit to Spectrum on Wednesday was part of his 14-stop Welch Wagon tour across the state, and he spent the day in Franklin and Grand Isle counties meeting with voters and hearing from business owners.
Other stops included The Traveled Cup, Leader Evaporator, Snow Farm Vineyard and Hackett's Orchard.
The Congressman is currently campaigning to replace Sen. Patrick Leahy (D-Vt.) in the U.S. Senate, and he is widely-regarded as the frontrunner in the race. If he were to win, he said he'd continue the work that Leahy pushed forward.
Priorities in the next legislative session, he said, are holding the line against conservative efforts, especially those by Senate minority leader Mitch McConnell, to push through a nationwide ban on abortion. Welch also highlighted the need to continue to support climate initiatives and advocate for fair elections.
If Republicans ended up winning legislative seats, Welch said "it would be a real reversal of direction."
Welch said he'd also continue the work that Leahy has done for Vermont by bringing federal funds into the state, Franklin County and St. Albans.
"I have such vivid memories of St. Albans before they updated to what it was today," Welch said. "There are a lot of empty storefronts filled now."